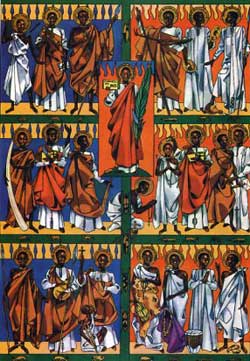 The chatter in the
main TEc outlets
about Uganda and its homophobia seems to forget how that nation became overwhelmingly Christian (as high as 85% in regular attendance) - the
Martyrs of Uganda
. I know it's conveniently left out of the discussion - how the flagrant pansexualism of The Episcopal Corp. is a true hindrance to Christians in other countries - but it's true. Even the
advocates of pansexualism
point out that the reason the martyrs were killed was because they
refused to submit to homosexual advances
by the pagan king of Buganda.
When the Global South stands up against the revisionist agenda, it isn't simply because they have Biblical disagreements; it is fueled by the
living memory
that resistance to the sodomite cause was the spark that set off a Spirit led revival of their nation.
Readings:
Psalm 138 Habakkuk 2:9-14 Hebrews 10:32-39 Matthew 24:9-14

Preface of Holy Week

PRAYER
O God, by whose providence the blood of the martyrs is the seed of the Church: Grant that we who remember before you the blessed martyrs of Uganda, may, like them, be steadfast in our faith in Jesus Christ, to whom they gave obedience, even unto death, and by their sacrifice brought forth a plentiful harvest; through Jesus Christ our Lord, who lives and reigns with you and the Holy Spirit, one God, for ever and ever.